Hillary Clinton's dress and how it influenced fashion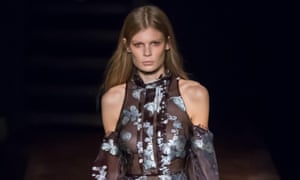 What with the pant suits and immovable hair, it's not often that Hillary Clintonhas an influence on fashion but her campaign may be boosted by an unlikely one.
The presidential hopeful, who was talking to Lena Dunham for her Lennynewsletter today, discussed racism, student debt, marrying Bill – and fashion. Prompted by a picture of her in a high-necked, shoulderless Donna Karan dress in the White House library in 1993, she brought a period phrase back. "This is what's called a cold-shoulder dress," she explains to Dunham. "And like everything I do, it turned out to be controversial. I'm hardly a fashion icon."
In the case of the cold-shoulder dress, she toally is. The look may have had its critics at the time, but, more than 20 years later, Clinton's chosen neckline is on trend. It may, we predict, usurp the Bardot, the off-the-shoulder neckline that dominated the high street this summer, to become the party-dress detail of the season.
There are several reasons for this. If the Bardot top seemed to appear out of nowhere, with a little push from the Man Repeller's Leandra Medine, who is quick to embrace any and all trends, the cold-shoulder's roots are a bit easier to trace. They range from Celine's AW15 show, where creative director Phoebe Philo designed quilted dresses with an inch of shoulder poking out, to a new appreciation for Donna Karan, since she announced she was leaving her label inJuly, and a love of s-t-r-e-t-c-h cotton clothes of the 90s, through the prism of American Apparel. The look has also been taken up by London fashion weekdesigners, particularly at the spring/summer 2016 shows. Erdem, Peter Pilotto and Preen all showed versions of the cold shoulder, in a season where cut-outs were a thing. The high street is catching up. Asos has more than 100 cold-shoulder dresses, and both Topshop and Boohoo are on the trend, too.
The principal reason that the cold-shoulder dress has the potential to become 2015's party-season neckline of choice is something far more boring – practicality. Dressing up in the winter is a faff, because the drop in temperature means flashing flesh could – in extreme cases – lead to a nasty case of hyperthermia, or at least the sniffles. The cold-shoulder dress – as its name suggests – leads only to cold shoulders, and some of them even have sleeves. This style – with its graceful cut-outs but maximum coverage – is a neat trick that plays to the things every woman wants when sinking back their 406th mulled wine of the season: to look glamorous, pulled-together and warm. The cold-shoulder dress is the answer, people. Hillary Clinton was on it in 1993. The question is, what took the rest of us so long?