WhatsApp for Android Officially Gets Google Drive Backup Option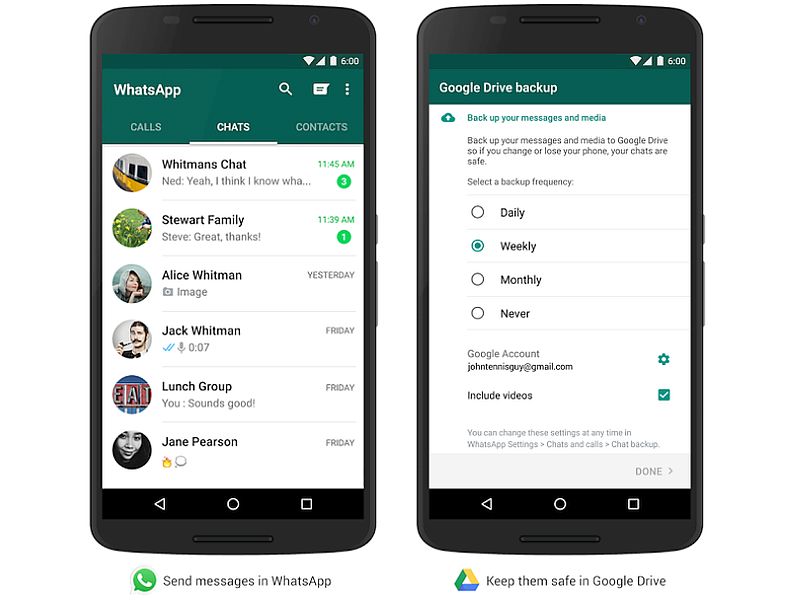 WhatsApp for Android will officially receive backup and restore options for chat history and media via Google Drive over the next few months. Google Drive in a blog post announced the news and confirmed that the new feature will allow users to backup chat history, voice messages, photos, and videos in Google Drive.
It's worth noting that WhatsApp started testing the long-rumoured backup and restore options in April for chat history and media via Google Drive. The feature was then spotted by multiple users; though it was removed shortly after. The feature was again available to select users in July with an update to the app bumping the version to 2.12.194.
The latest announcement will mean that the backup feature will be rolling out to all Android users in coming months.
With WhatsApp for Android version (2.12.194), default backup notifications were sent at 4am (which is the default time of chat/ media backup) asking for permission to access the Google Drive folder. TheGoogle Drive backup feature was found in the app's Settings > Chat Settings > Chat Backup. On tapping the backup option, the app requested users to enter a Google account to backup/ restore files to. Users could change the frequency of backup messages and media from daily, weekly, or monthly. It also gave app users the option to turn off auto-backup. Next users could choose to backup using Wi-Fi only or Wi-Fi and cellular data. The option for backup was however nowhere to be found in WhatsApp settings and could only be seen in Drive's Settings > Manage Apps where the list shows WhatsApp.
Announcing the news, Scott Johnston, Director of Product Management said, "The new backup feature is rolling out over the next few months, so keep an eye on your WhatsApp settings to see if it's available."