Who Knew The Beckhams Were Big Barbra Streisand Fans?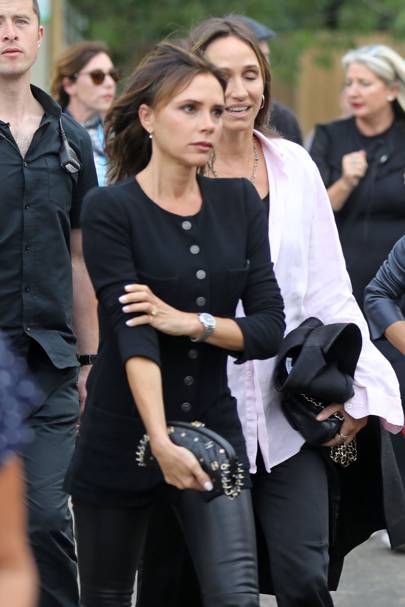 Part one of Victoria and David Beckham's 20th wedding anniversary celebrations saw the couple explore Versailles with a personal ward. How could part two possibly compete with such glorious private photo opportunities and champagne supping in the palace grounds? With a heavy dose of musical nostalgia in their home city, actually.
The Beckhams donned their best leather (Victoria by way of trousers, while David chose a motorcycle jacket) to watch Barbra Streisand perform at Hyde Park as part of the British Summer Time concert series. Unlike Glastonbury, which saw festival goers witness Victoria wear flats to navigate the fields in, the designer paired her black separates with neon-green Balenciaga "Square Knife" stilettos.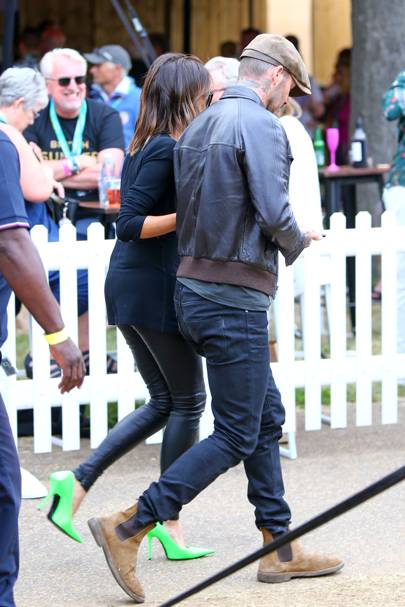 "So much love," David captioned a picture of the crowd on Instagram Stories. Victoria, meanwhile, posted a photo of herself wearing merchandise sporting Streisand's face, which she omitted in favour of a Chanel cardigan when the time came to mingle with Rebel Wilson and Claudia Winkleman in the Barclaycard Exclusive Area. The group saw Bryan Ferry and Kris Kristofferson precede Streisand – who collaborated with the latter on the second adaptation of A Star Is Born – on the Great Oak Stage.
The Beckhams both marked two decades of marriage on July 4 with a social-media montage of iconic Posh and Becks moments throughout the years. In the mix were highlights from their 1999 nuptials in Luttrellstown Castle, David's long tousled hair phase, Victoria's spiky heavily highlighted crop – plus the pob – and the duo's previous matching leather moment. Their love story might be as old as their eldest son Brooklyn, but David and Victoria aren't immune from a couple's coordinating style moment just yet.